Bristol
Regarded as one of the UK's most exciting creative hubs, Bristol is a magnet for self-employed talent, startups and large corporations.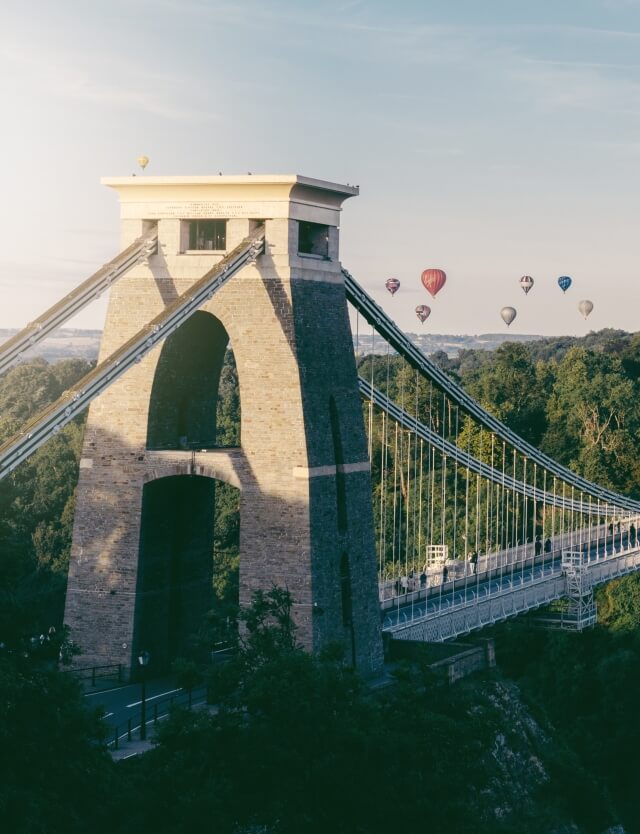 Talent
PRIMARY SKILLS
Hardware, Security, Front-End Frameworks
SECONDARY SKILLS
Graphics & Gaming
Creatives and tech whizzes rub shoulders in Bristol, considered one of the most forward-thinking, innovative and dynamic cities in the UK. Its fast-growing technology sector comprises a range of industries, including creative media, electronics and aerospace. The city hosts Europe's second-highest per-capita density of hardware engineers and the third-highest density for security tech talent, comprising 7% of the local talent pool—nearly double the European average of 4%.
Ecosystem
Tech ecosystem value
€9.5 billion (£8.36 billion)
VC from 2015
€2.2 billion (£1.94 billion)
Major employers
Nationwide Building Society
,
Dyson
,
CGI
Bristol is home to the largest number of high-growth technology companies in South West England and is also a hub for self-starters. Self-employment accounts for a bigger proportion of talent than any single company. Two notable startups launched out of the city include Vertical Aerospace, an aerospace manufacturer based in the city which specialises in decarbonising air travel, and Graphcore, a semiconductor company which develops accelerated processors for artificial intelligence and machine learning. Meanwhile, Bristol's high concentration of security talent is put to good use by numerous large firms, including mutual financial institution Nationwide Building Society, one of the city's biggest hirers.
This vibrant technology hub is a base for both heavyweights and startups. Amazon, Nokia and SN Systems (a startup now part of Sony) operate alongside many startups and three accelerators. Bristol's technology ecosystem is valued at £8.36 billion and has attracted £1.94 billion in venture capital funding since 2015.
Universities
% contribution to local talent pool
University of the West of England (UWE Bristol)
14%
Three universities are the key sources of the city's technology talent. The University of Bristol has been ranked within the top 10 universities in the UK and the top 50 in Europe overall and hosts a strong engineering faculty that conducts its teaching and research in close collaboration with the local world-leading engineering industry. UWE Bristol is an anchor partner in the West of England Institute of Technology and offers courses in advanced engineering, digital and high technology, and health and life sciences.
Hiring
Bristol's tech talent appears content in their current positions, with only 7% open to new roles—close to half the European average of 12%.
The statutory notice period for redundancies is the same as the rest of the UK and depends on employment length: one month for up to four years of employment; one week is added to the one month's notice for every year of continuous employment for five to 11 years of employment; and three months for more than 12 years.
Employees wanting to resign have a statutory minimum of one week's notice, but many companies may opt for longer notice periods contractually.
Equity is usually structured at a standard four-year duration with a one-year cliff and the vesting interval averages once every two months after the cliff.
The cost of living in Bristol is 13 percentage points higher than the European average.
Business landscape
Employers in the United Kingdom pay up to 19.55% of gross salary towards employee benefits and insurance, which is just below the 20% European average.
The UK corporate income tax rate is 19%, below the European average of 22%.
The Enterprise Management Incentive (EMI) scheme is a popular choice for tech startups in the UK. Employees with equity in companies with the EMI scheme are given a €15,245 (£11,700) Capital Gains Tax Allowance when they sell their equity, after which they are taxed at 20%. If EMI options are held for more than two years between receiving the option and selling it, the tax rate is reduced to 10%.
The average monthly rental for office space in Bristol is €43 (£38) per square metre, which is slightly higher than the European average of €38.
Contribute to this page
Do you work in Bristol and have insight about what makes this a dynamic hub for tech talent?
Let us know!